COVID-19 UPDATE
Yes! We are OPEN with the following restrictions:

No Mask, No entry. No Gator Mask and bandannas are not allowed. Temperature Checks, hand sanitation, and wellness check at entry. Maintain 6ft social distancing at all times.

CKFC: Limited capacity with limits posted for each room. No towel or other gear issued from the desk. Water fountains are off-limits with the exception of the bottle filler. Locker rooms for restrooms, designated showers, and locker use only. Saunas and steam rooms are secured.

CKFC POOL: Pool's Max Capacity - 50 pax. No mask, No entry. Mask must be worn at all times when not in the water, eating, or drinking. Must maintain social distancing. Must sanitize showers after every use. Stay in the designated area of the pool deck and pool zone.
The Charles King Fitness Center & Pool offers a variety of fitness classes, swimming classes, aerobic fitness equipment, weight rooms, male/female sauna rooms, basketball courts, indoor racquetball courts, a family fitness room, and a group fitness room. CKFC also offers personal trainer services as well as FREE group fitness classes such as Zumba, Yoga, and Cycling.
Guest Pass
$5.00 per guest per day (guest must have a day pass from the Visitor Control Center).

CKFC Membership for Contractors
$30 a month or $300 a year; payable at the CKFC front desk.

Personal Trainer Package Price List
| | | | |
| --- | --- | --- | --- |
| Sessions | Single | Double | Active Duty 15% off* |
| 1 Session | $35 | $25 | $30 |
| 3 Sessions | $90 | $73 | $77 |
| 6 Sessions | $174 | $141 | $148 |
| 8 Sessions | $228 | $185 | $194 |
| 12 Sessions | $317 | $264 | $270 |
*Active Duty Price refers to a client only.
Charles King Fitness Center offers Intramural Sports also known as Captain's Cup. Click here for more information.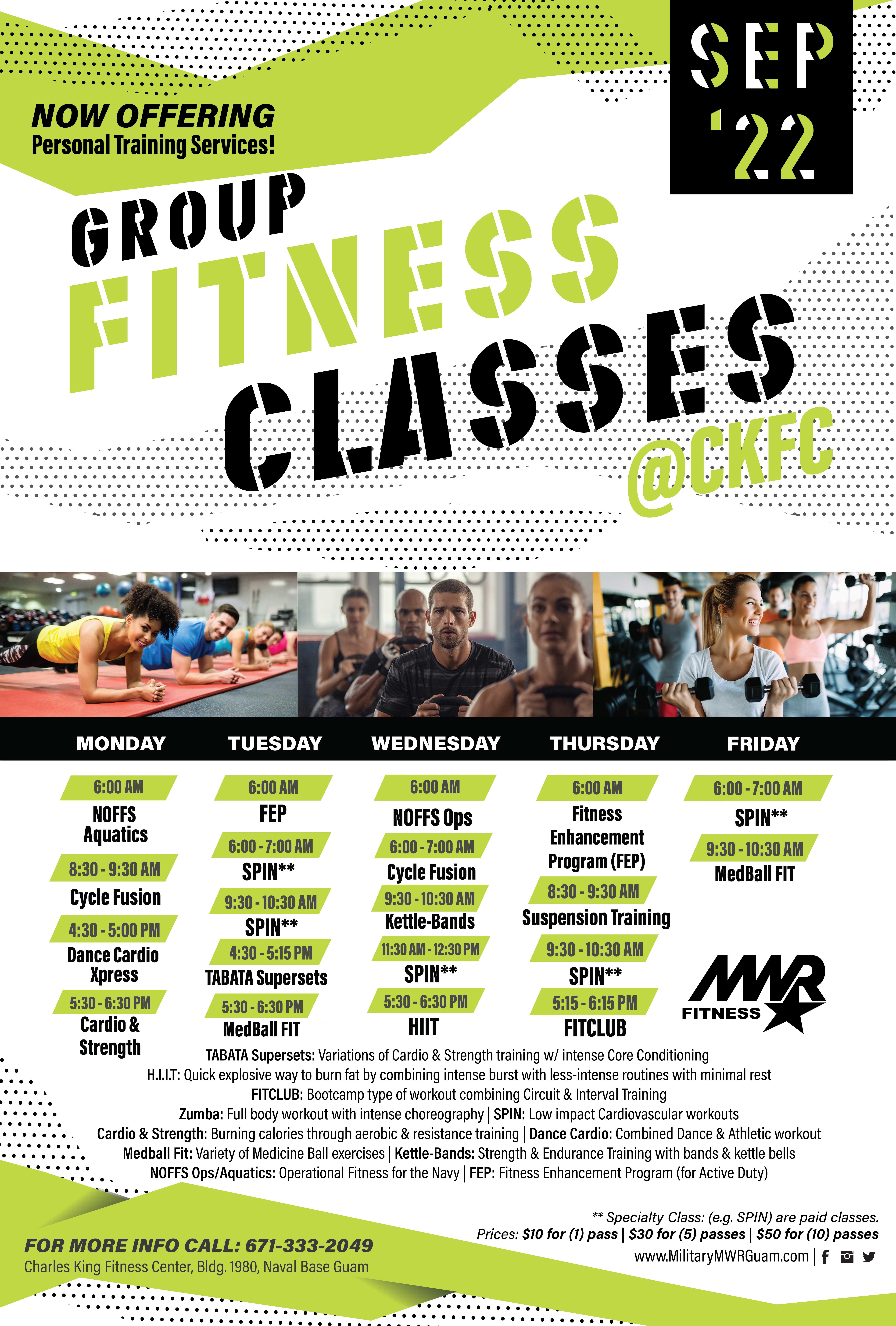 ---
NOFFS: Navy Operational Fitness & Fueling System
The Navy Operational Fitness and Fueling System [NOFFS] provides the Navy with "best in class" physical fitness and nutrition information for Sailors, allowing the Navy to maintain peak physical readiness, which is a top priority of the 21st Century Sailor and Marine initiative.
---
Your opinion matters! We are conducting a survey to better help serve our Service Members. Click here to take our survey.