Need some local tickets or maybe even an off-island vacation, but don't want to deal with the stress of booking everything yourself? Visit MWR's Tickets & Travel office located inside of Charles King Fitness Center and our friendly staff will assist you with all your booking needs.
Navy Community Recreation Tickets & Travel is a full service travel agency! Let us take the stress out of planning your next family vacation, honeymoon trip, business travel, etc. We can even book your hotel and rental car too! The NCRTT office also offers special discounted tickets for local tours and events.
Airline Tickets
Group Travel
Car Rental
Hotel Accomodations
Taylored Travel Packages
Local Discounted Tour and Event Ticket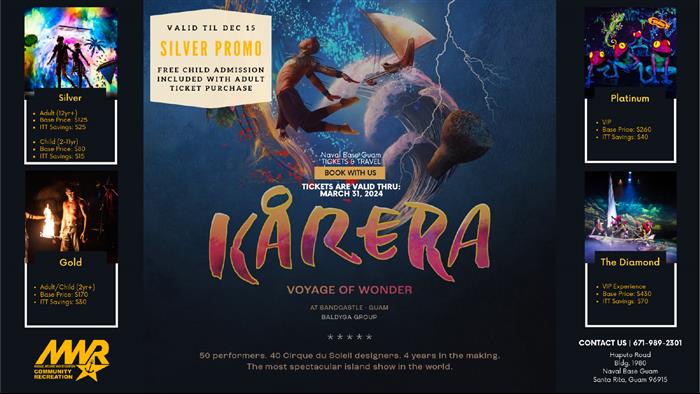 Your opinion matters! We are conducting a survey to better help serve our Service Members. Click here to take our survey.
Services Offered
Naval Base Guam Lemon Lot
Buy and sell personally-owned vehicles through the POV Resale Lot (also known as Lemon Lot). Sell privately owned automobiles, motorcycles, boats, RVs, and other vehicle types! The NBG Lemon Lot is conveniently located in the parking lot across from the Navy Exchange Home Gallery. This lot is for private auto sales only, and all vehicles displayed must have a permit, which is available through the MWR Outdoor Recreation Center. All vehicles must be registered and insured while on display.
LEMON LOT COST: $20 per month/per vehicle
REGISTRATION INFORMATION: To register please call 564-1826 or make an appointment by email:
mwrguamitt@gmail.com
. Must submit a current vehicle registration and insurance.